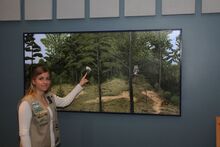 Rebecca Tredwell (b. November 25, 1997) is an American former Nassau County Girl Scout and a 2015 Gold Award Recipient.
Rebecca joined Girl Scouts in kindergarten as a Daisy. She had always loved nature. When it was time for Rebecca to do her Gold Award project, she knew that it would be centered on the environment.
The Gold Award is the highest honor in the scouts, and a girl must complete a project on their own, unlike the Bronze and Silver awards which are team efforts.
Rebecca reached out to the Tackapausha staff, saying she was looking to do a project. They said they were interested in the murals to use as a learning tool. So she combined her two loves, nature and art.
Each mural is done on three-quarter inch plywood and measures six feet wide by three feet high. She received some donations of materials, as well as funds supplied by her troop. Rebecca estimated that she spent about $150 on paint alone. 
Rebecca, who had never done a project of this magnitude before, said each mural took about 20 hours to paint, and factoring in planning time, she has put more than 100 hours of work into her project, which began in August 2014. She had to do research on the different habitats to make sure her paintings would be accurate and created an accompanying pamphlet with games, challenges and information.
For her Silver Award project, she and fellow troop members wrote a play about Juliette Low, the founder of the Girl Scouts, and performed it for younger troops. The Bronze Award project was an animal care day.
She said she was inspired to go for the Gold Award by older scouts, as well as her mother, Maureen, the troop leader of Troop 3296. 
Maureen Tredwell said that Girl Scouts have a lot of latitude when picking a service project. "It's pretty wide open what they can do," she said. "You can do a lot to change a community."
She added that she was proud of the work her daughter did, and for selecting a project that will educate others.
Community content is available under
CC-BY-SA
unless otherwise noted.